MIRAGE 2000 MULTI-ROLE FIGHTER, FRANCE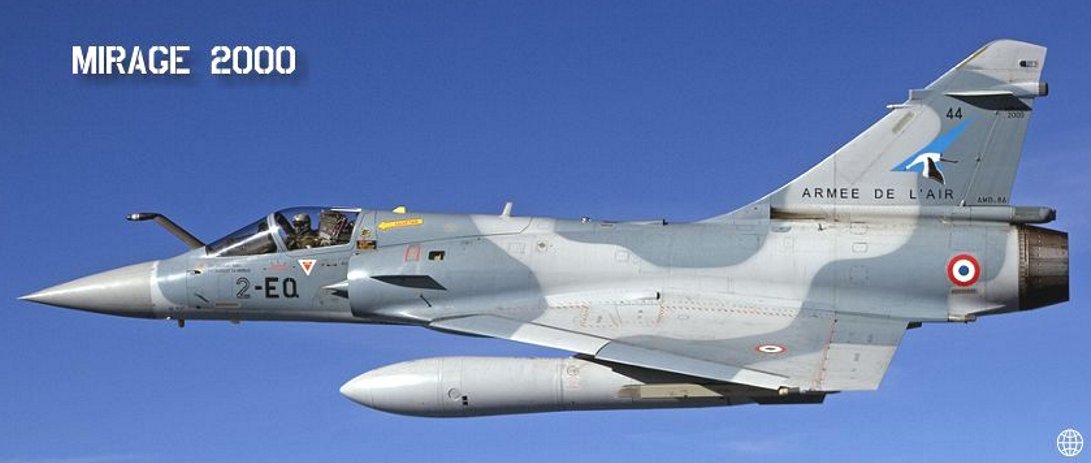 Mirage 2000 is a multi-role combat fighter from Dassault Aviation of France. It has been operational with the French Air Force since 1984, and has been selected by Abu Dhabi, Egypt, Greece, India, Peru, Qatar, Taiwan and the United Arab Emirates.
Mirage 2000 fighters in operation with the French Air Force are: Mirage 2000C/B single seater and two seater for air defence; Mirage 2000N, two seater, designed for all weather nuclear penetration at low altitude and very high speed; Mirage 2000D, an upgraded version of the Mirage 2000N, for automated bombing using conventional and laser guided munitions; and Mirage 2000-5, incorporating advanced avionics, new multiple target air-to-ground and air-to-air firing procedures using the RDY radar and new sensor and control systems.
Orders for 110 Mirage 2000-5 have been placed by the air forces of France (37, with 20 delivered), Taiwan (60 aircraft), Qatar (12) and Greece. Greece is acquiring 15 Mirage 2000-5 Mk 2 and upgrading ten of its Mirage 2000 to the same standard. The first entered service in September 2004. The United Arab Emirates have ordered 32 2000-9 aircraft, a customised version of the 2000-5. First deliveries were in June 2003. India has ordered ten Mirage 2000D and is also to purchase the 12 2000-5 fighters of Qatar.
In July 2005, the Government of Brazil agreed to purchase 12 ex-French Air Force Mirage 2000C aircraft.
Dassault has received a contract to upgrade the French Air Force's Mirage 2000N to K3 standard. The K3 upgrade includes the operation of the MBDA ASMPA nuclear standoff missile and a new Thales Optronics Reco NG reconnaissance pod.
COCKPIT
Mirage 2000-5 is available as a single-seater or two-seater multi-role fighter. The aircraft has hands-on throttle and stick (HOTAS) control. Mirage 2000-5 incorporates the Thales VEH 3020 head-up display and five cathode ray tube multifunction advanced pilot systems interface (APSI) displays. The combined head-up/head-level display is collimated at infinity, and presents data relating to flight control, navigation, target engagement and weapon firing. Sensor and system management data is presented on two coloured lateral displays.
WEAPONS
Mirage 2000 has nine hardpoints for carrying weapon system payloads: five on the fuselage and two on each wing. The single-seat version is also armed with two internally mounted, high-firing-rate 30mm guns.
Air-to-air weapons include the MICA multi-target air-to-air intercept and combat missiles, and the Magic 2 combat missiles, both from MBDA (formed out of a merger between Matra BAe Dynamics, EADS Aerospatiale and Alenia Marconi Systems). The aircraft can carry four MICA missiles, two Magic missiles and three drop tanks simultaneously. The Mirage 2000-5 can fire the MBDA Super 530D missile or the MBDA Sky Flash air-to-air missile as an alternative to the MICA missile.
Mirage 2000 is also equipped to carry a range of air-to-surface missiles and weapons including laser-guided bombs. These include the MBDA BGL 1000 laser-guided bomb, MBDA AS30L, MBDA Armat anti-radar missile, MBDA AM39 Exocet anti-ship missile, MBDA rocket launchers, MBDA Apache stand-off weapon, and the stealthy cruise missile, SCALP. The Mirage 2000-9 aircraft ordered by the United Arab Emirates carries the Black Shahine missile being developed by MBDA. The MBDA Storm Shadow/Scalp EG stand-off cruise missile will arm French AF Mirage 2000D, Greek Mirage 2000-5 and UAE Mirage 2000-9 aircraft. Storm Shadow was first deployed on UK RAF Tornado aircraft during Operation Iraqi Freedom in March 2003. Scalp EG entered service on French AF Mirage 2000D in December 2003.
MBDA has been awarded a contract in October 2003 to integrate the ASMPA medium-range air-to-ground missile on the French Air Force's new Mirage 2000NK3 aircraft. ASMPA has a tactical nuclear warhead and will replace the ASMP missile in service on the Mirage 2000N since 1988.
TARGETING
Mirage 2000 has an upgraded digital Weapon Delivery and Navigation System, WDNS. The aircraft can be fitted with a TV/CT CLDP laser designation pod from Thales Optronique, which provides the capability to fire laser-guided weapons by day and night. The 2000-5 Mk 2 will have the Damocles laser designation pod with thermal imaging camera, also from Thales Optronique.
Mirage 2000-5 is equipped with a multi-mode Thales RDY doppler radar which provides multi-targeting capability in the air defence role and the radar also has look down/shoot down mode of operation. The radar can simultaneously detect up to 24 targets and carry out track while scan on the eight highest priority threats.
COUNTERMEASURES
The aircraft is equipped with a self-protection suite installed internally. Mirage 2000-5 carries the ICMS Mark 2 automated integrated countermeasures system from Thales. ICMS Mark 2 incorporates a receiver and associated signal processing system in the nose section for the detection of missile command data links. The system can be interfaced to a new programmable mission planning and a post-mission analysis ground system.
ENGINES
Mirage 2000 is equipped with an SNECMA M53-P2 turbofan engine, which provides 64kN thrust and 98kN with afterburn. The air intakes are fitted with an adjustable half-cone-shaped centre body, which provides an inclined shock of air pressure for highly efficient air input.